Coronavirus: 'Third of UK harvest may go to waste' due to COVID-19 travel ban
A third of this summer's food harvest could go to waste on British farms because of a chronic shortage of migrant labour caused by the coronavirus outbreak, charities and farmers are warning.
UK farms and food producers rely on a migrant workforce of 60,000 to 70,000 seasonal labourers mainly drawn from eastern European countries including Romania, Bulgaria and Poland.
Within weeks, fruit and vegetable crops will need harvesting but travel restrictions across Europe and the UK, imposed to slow the spread of COVID-19, mean it may prove impossible to recruit overseas staff.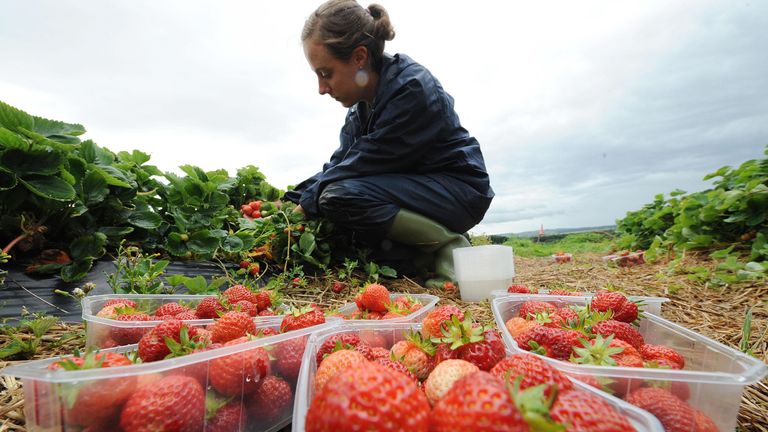 Farm labour charity Concordia, which sources seasonal labourers for British farms, says it is "desperately worried" about the impact on the UK harvest, and warned that UK workers will not fill the gap.
Chief executive Stephanie Maurel told Sky News: "We are extremely worried about what that means for the whole system.
"If there are 90,000 jobs in our sector, that's usually 60,000 people that might do six weeks here and there, picking strawberries, asparagus, potatoes and so on.
"That's at least 60,000 jobs, 60,000 people that we desperately need that we won't find in the UK."
Concordia is in negotiations with the Romanian and UK governments about providing dedicated flights for some seasonal workers, and is running a campaign called Feed The Nation, encouraging British workers to apply for vacancies.
But Ms Maurel warned that was unlikely to fill the gap, in part because of the government measures announced to cushion the economic impact of the virus.
Source: Read Full Article