Children in England 'back to school in September'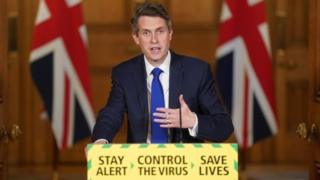 All pupils in all year groups in England will go back to school in September, Education Secretary Gavin Williamson has announced.
At the daily coronavirus briefing, he said the government was "signed up… to bring every child back, in every year group, in every school".
Guidance on safety measures will be published in the next fortnight.
It comes after the prime minister announced a £1bn fund to help England's pupils catch up with learning.
Schools closed to everyone except vulnerable children and those with a parent identified as a key worker on 20 March, in response to the coronavirus pandemic.
As the lockdown measures started easing at the beginning of this month, children in nursery, reception, Year 1 and Year 6 were encouraged to returning to primary schools in England, albeit in smaller class sizes.
Some Year 10 and 12 pupils – selected because they are sitting GCSEs and A-levels respectively next summer – returned to secondary schools and colleges this week.
Ministers now want all pupils in England to return to classrooms full-time in the autumn, ending a near six-month absence for many pupils.
Source: Read Full Article