European Central Bank delivers huge interest rate hike despite banking sector "tensions"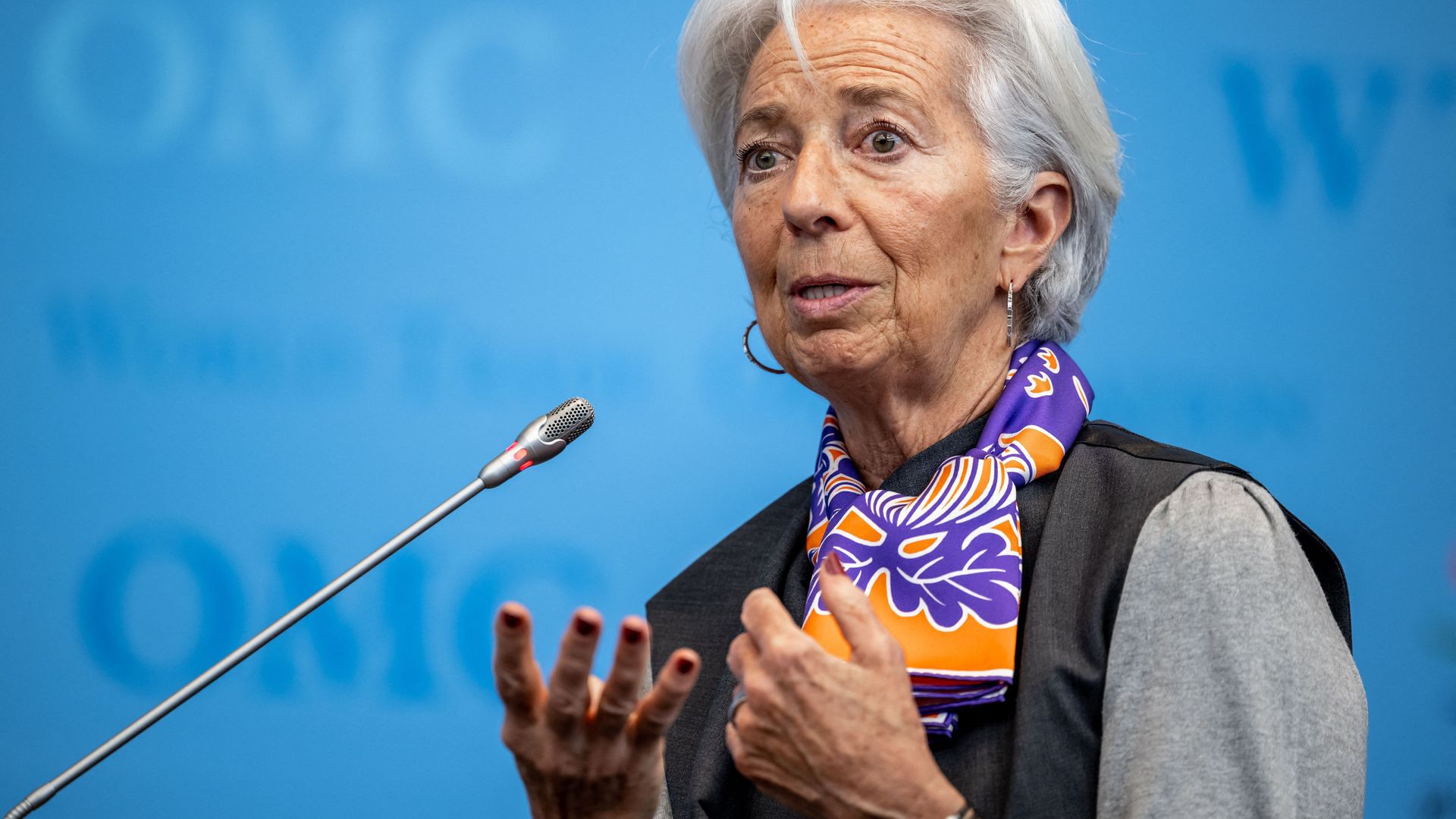 European Central Bank President Christine Lagarde delivers a speech earlier this month. Photo: Fabrice Coffrini/AFP via Getty Images
The European Central Bank on Thursday raised interest rates by a half percentage point as officials continue an aggressive battle against inflation despite some signs of stress in the banking system.
Why it matters: The supersized rate increase means the troubles at Credit Suisse and financial market jitters were not enough for the central bank to back off its inflation fight.
What they're saying: In a statement, the ECB acknowledged current "financial market tensions" and said it was ready to step in as necessary.
"The euro area banking sector is resilient, with strong capital and liquidity positions," the statement reads. "The ECB's policy toolkit is fully equipped to provide liquidity support to the euro area financial system if needed."
Where it stands: Prices continue to rise at a rapid pace across the European Union. Initial estimates show inflation was 8.5% in the 12 months through February 2023, down a tick from the 8.6% the prior month.
Core inflation, which strips out food and energy costs, hit a record 5.6% in the year through February — a clear sign underlying inflation pressures continue to run strong.
By the numbers: In new economic projections released on Thursday, ECB officials anticipate inflation will average 5.3% this year. Their estimates show inflation won't fall close to its 2% target until 2025, when they project it'll reach 2.1%.
Officials also revised up growth estimates for the euro economy. For 2023, growth will average 1% "as a result of both the decline in energy prices and the economy's greater resilience to the challenging international environment," according to the statement.
Growth is then expected to pick up more next year, in part because of the strong labor market, before slowing the following year.
The bottom line: "Inflation is projected to remain too high for too long," as the first line of the ECB statement says.
The policy decision shows that moving aggressively to crush inflation remains the top objective — despite the risk it may pose to a financial system that might be starting to show cracks.
The big question is whether the Federal Reserve follows a similar path next week when officials meet in the face of the Silicon Valley Bank collapse.
Source: Read Full Article